«MobiliseSME is very useful for those SMEs that are starting their venture and need some tips and tricks»
Luciana Tanase is the owner of the company I-LO HIGH FASHION S.R.L., located in Romania. Luciana has participated in MobiliseSME as a Sending Company in order to collaborate with Elio Laureano and his company, Relentless Enterprise Ltd., for 4 months in Dublin.
Interview
– Hello, Luciana, tell us a bit about your company and your professional path. Why did you decide to participate in MobiliseSME?
I-LO Fashion is the company that was founded at the end of 2018 out of the desire to create clothing items in small series, unique and personalized for women.
Currently, this is an online store, where orders are placed daily.
I invested to this business all the creativity, time and money available. My purpose is to make it a brand that offers to its customers quality and fairly priced products, according to the market and average prices.
In order to do this, I searched all kind of opportunities and resources, and MobiliseSME offered me the possibility to extend my business.
– How about you, Elio?
Relentless Enterprise is an Irish company that supports international entrepreneurs as they set up in the growing tech hub of Ireland.
We are passionate about ensuring that our clients move to Ireland is a great success with our company's support programme.
Relentless Enterprise was founded with an audacious vision in 2020, which we maintain today.
Starting your startup is a tough road, relocating to another country is complex and Relentless is here to provide expertise through each stage of the process.
With our concierge service, entrepreneurs are free to focus on developing their startup, while also availing of our business management and support systems.
– From a business point of view, how did the collaboration with the Host Company contribute to your company, Luciana? Would you repeat the MobiliseSME experience?
The collaboration with my Host Company gave very positive results.
I have benefited greatly from the activities and research carried out by Relentless in the local market. Especially, its business network creates a great potential for my own business.
We have collaborated in many areas, such as market research, marketing development, digital marketing transformation, product development, customer profiling and budget planning.
We have also applied new tools on the effective use of digital marketing, such as Google Analytics or Semrush. At the same time, these and similar tools have been very useful for social media marketing.
Moreover, we have searched to find more financial solutions for our own businesses. Thus, we have done various studies to improve our business activities in other European countries. In this regard, the platforms of the European Commission have been very useful.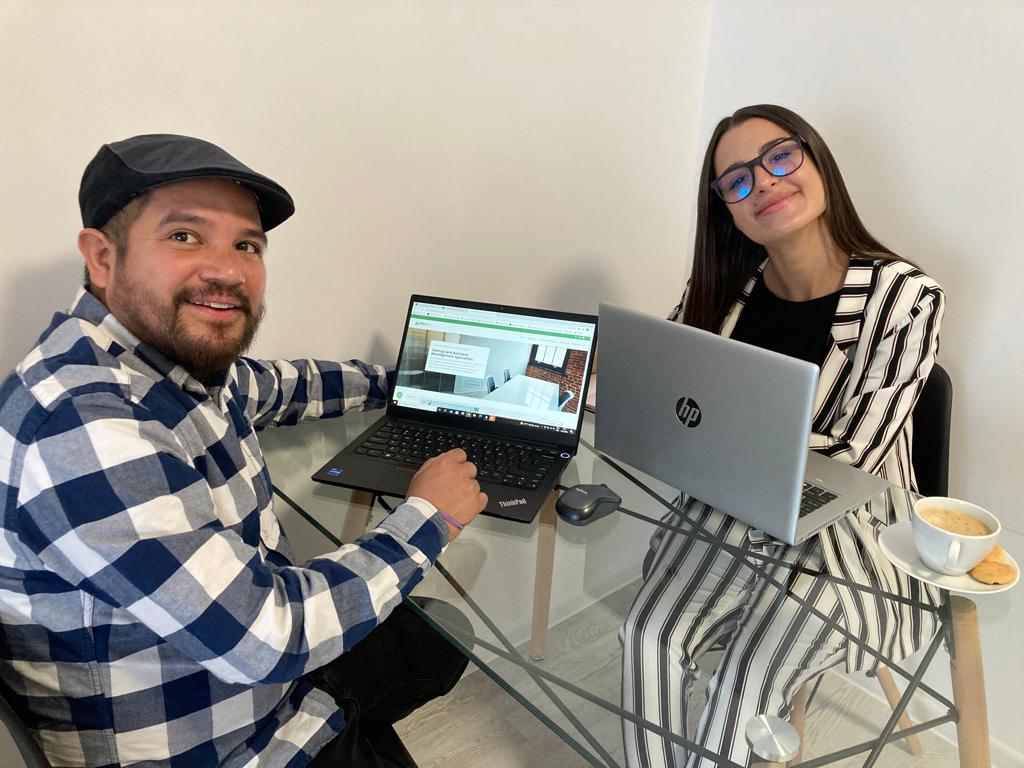 – Elio, please, briefly describe the matchmaking process and the preparation of activities with Luciana. How did it go?
We found each other's companies on social networks.
I was interested about textile/fashion/clothing sector, because I also have other business ideas related to this industry and I wanted to collaborate with someone who is already involved in it and can give me some tips and tricks.
I found the profile of the Sending Company and Luciana interesting and creative.
We managed the activity plan through online meetings. It was very interactive because she is really good at managing and planning meetings.
The process we followed was, first, making a presentation of each other's company, and then writing down the activities month by month.
– Luciana, how has this collaboration helped your professional development?
I learned more about different markets and this gives me confidence to continue expanding my business abroad after my participation in MobiliseSME.
During all these months, I had time to research and make better decisions for my company and for myself as a professional.
I also got more knowledge about online markets, its weaknesses and strengths, and how to handle with this in the future.
In addition, I discovered more financial platforms and opportunities together with my Host Company. Surely, Elio's experience in the local market helped my network.
– And with which knowledge, techniques or information have you contributed to the Host Company?
Elio and his company supported me during all the experience with MobiliseSME.
He has shared knowledge with me on technical skills, on tools such as Google My Business and Google Analytics -which helped me to understand the real position my company has in the Romanian market-, as well as to develop tactics that could help to improve my overall position in the market.
One of the most helpful thing was that Elio supported me in the creation of databases of clients, collaborators, potential customers and competitors, which makes easier to handle my daily work.
In addition, Elio shared with me most of the international purchasing procedures that he was aware at that time.
On the other hand, I-LO fashion is using map applications and analyzing daily traffics for the most common routes in local market and using this data for successful delivery estimates, in order to satisfy customers and reduce the costs of delivery. I have shared and implemented this knowledge in Elio's business.
I also shared knowledge about which would be the proper time for campaigns, on-time delivering methods in a crowded city, as well as personalized Salesforce profile for the business.
– What about you, Elio? How do you think this collaboration with Luciana contributed to your company and personal development?
The Sending Company was very helpful for all the information that gave us about the Romanian market.
The contribution of Luciana was visible during the expansion of our services. Thanks to this, we will focus on some points on internationalisation issues while expanding our services.
We also had access to useful information thanks to the previous work of I-LO Fashion.
Thanks to our collaboration through MobiliseSME, we realised that, from Relentless, we have to take more care of the preparation of the meeting agenda, as well as the logistics agenda.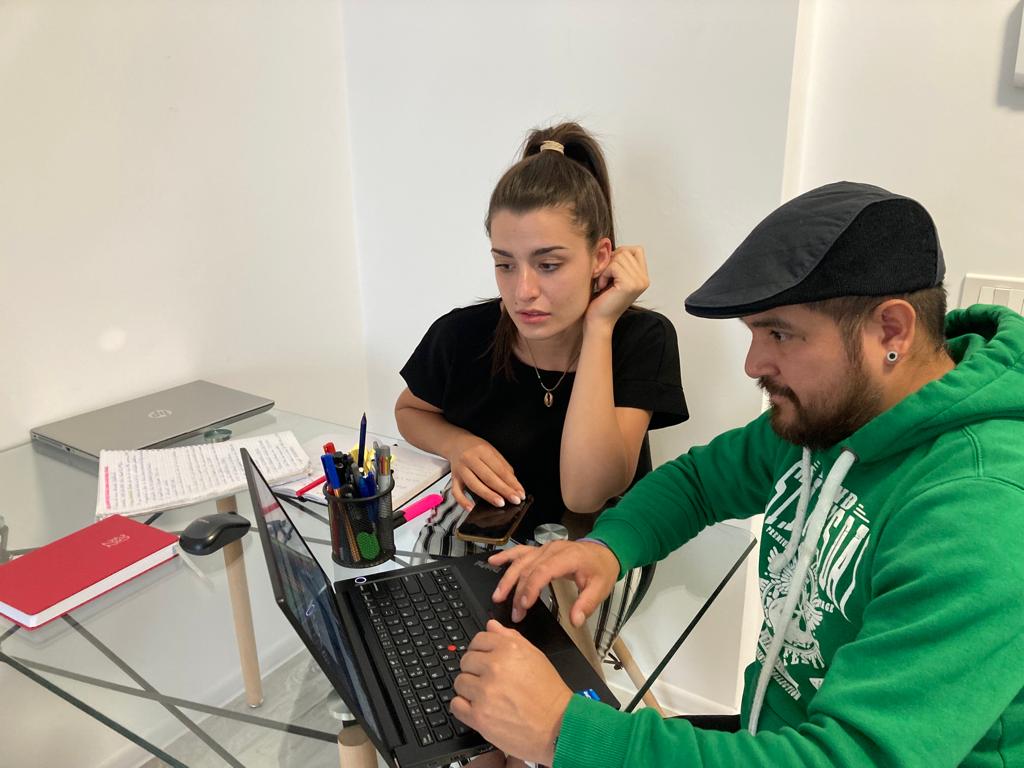 – Do you plan to continue the collaboration after the experience with the MobiliseSME programme?
Luciana: For sure, we will continue to keep in touch and let each other know about programmes, opportunities, communications… that might arise in the future.
Our collaboration was very good! As proof of this, one of our ideas was to extend my business to the Irish market.
The production costs and style from Romania would match perfectly with the Irish market and its customers, based on our research.
There are so many opportunities we can seize that we plan to collaborate in different fields too, since we have common business goals.
Elio: Yes, we plan to continue collaborating together, as I can provide services to I-LO, above all regarding their website, online market maintenance and online advertising, which could increase the number of orders and its profit.
I can also support Luciana in the implementation of new digital marketing strategies and techniques.
In the future, we would like to make Luciana and her company our partner, or try to buy from her the raw materials and then sell them in Ireland.
– Luciana, last but not least, did you improve your knowledge of mobility of workers within the EU after your participation in MobilisSME? Which role had the Local Contact Points in sharing this information?
MobiliseSME was a good opportunity for me, especially at this moment, because I was wishing to expand my business but I lacked knowledge and skills, which I realised later on.
This programme offered me the time and support to the research related to my future steps and actions.
In addition, the collaboration with Elio and his company contributed to the entire experience more than enough.
I would recommend the programme to all the SMEs that are at the beginning of their adventure and, thus, need some tips and tricks related to markets.
Our Local Contact Points, the Dublin Chamber and Business Incubator Novi Sad, supported us by providing a lot of information and advice throughout the whole process.