MobiliseSME invites you to its Final Conference!
On March 14th from 10:30h to 12:30h (CET), the Official Spanish Chamber of Commerce in Belgium and Luxembourg and Fundación Equipo Humano will held the event "SMEs' Collaboration and Employee Mobility in the European Single Market", the Final Conference of the MobiliseSME programme.
The event will take place at the Renaissance Marriott Hotel in Brussels, but will also be available online for all those interested in the topics to be discussed but unable to travel to the venue.
A MAJOR EVENT IN THE 30TH ANNIVERSARY OF THE EUROPEAN SINGLE MARKET
For the last 2 years, the MobiliseSME programme has given more than 550 SMEs and their staff the opportunity to participate in cross-border secondments that have strengthened the skills of European SMEs' and their employees.
The conference will focus on themes such as the added value of EU cross-border collaborations for SMEs staff and the achievements of the MobiliseSME programme, including success stories of employees, managers and CEOs.
Through a panel discussion, the conference will explore the challenges and future scenarios facing the European Single Market, which celebrates its 30th anniversary in 2023, with representatives from DG Employment and DG Growth.
Topics such as employees' skills, internationalisation, SMEs collaboration, coordination in the EU among Member States and the European Single Market will be at the centre of focus, with the presence of stakeholders from different institutions and organisations across the EU.
SPEAKERS AND FURTHER DETAILS
The MobiliseSME Final Conference will feature key people and organisations in the areas of SMEs and employees' professional development in the EU Single Market.
Local Contact Points (chambers of commerce, incubators, business associations, and experts in workers mobility and business internationalisation at the EU level) from the MobiliseSME programme will also attend the event.
Moreover, the webinar will also be attended and presented by representatives of the two main branches of business and SMEs in the EU, concretely:
– A representative of Labour Mobility, Free Movement of Workers, EURES Unit from the Directorate-General for Employment, Social Affairs and Inclusion, DG EMPL.
– And a representative of the SME Internationalisation Unit from the Directorate- General of Internal Market, Industry, Entrepreneurship and SMEs, DG GROW.
The Final Conference will be held in English.
AGENDA & REGISTRATION
You can check the full programme of the event here.
Below you can check the agenda of the MobiliseSME Final Conference: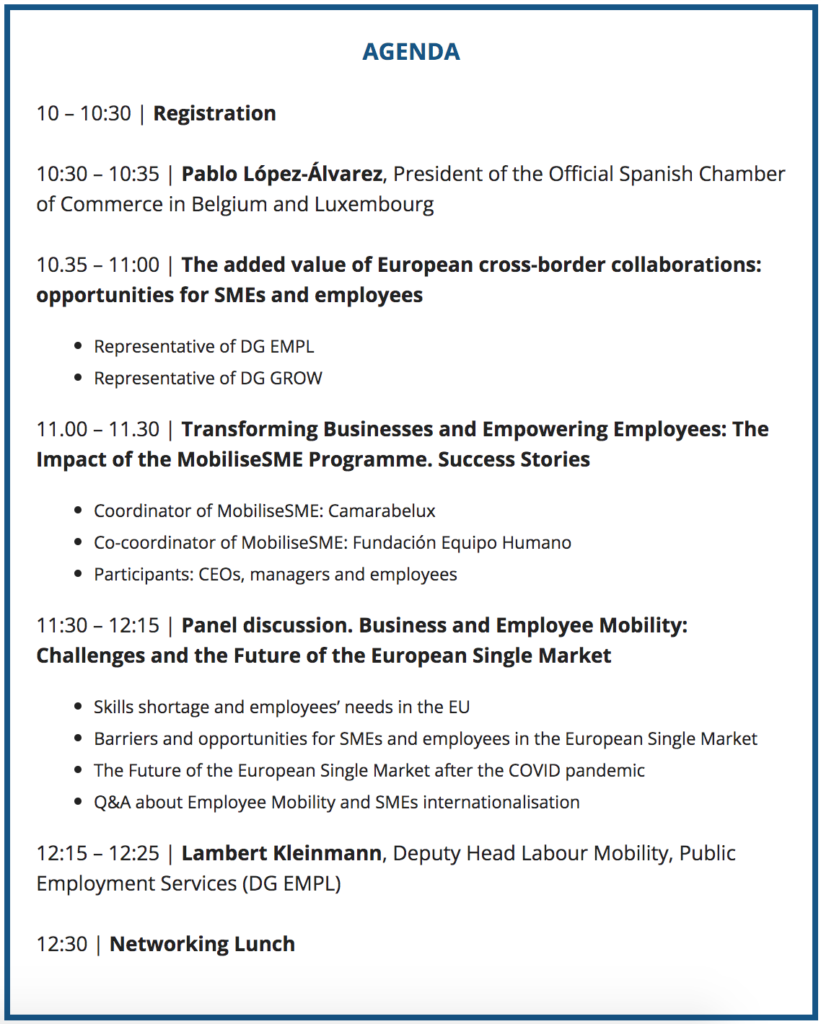 – If you are going to attend the event on-site, you can register through this form.
– If you intend to attend the event online, please register here.
Do not miss this major European event!