New collaboration in MobiliseSME: restoring pianos from Spain to Belgium
It is time to introduce you to a new collaboration between European SMEs in the framework of the MobiliseSME programme:
Gonzalo Palenzuela, Spanish freelancer and owner of Silentium Piano, has decided to participate in MobiliseSME as Sending Company (SC) to collaborate for 3 months with Queen's Pianos, a Host Company (HC) from Belgium and specialised in importing pianos.
What are they seeking by participating in MobiliseSME?
Gonzalo is a self-employed worker specialised in piano maintenance and restoration. For him, this collaboration primarily means expanding his client portfolio and being able to offer high quality services not only in his country (Spain), but in most of Europe.
For Queen's Pianos, it would mean hosting a self-employed person specialised in the repair and restoration of grand pianos that may offer an added value to its staff, by sharing and exchanging their knowledge, in particular on piano restoration techniques.
Main activities
Both European SMEs will work together mainly to:
– Conduct market research;
– Exchange knowledge and practices (training);
– And internationalise their products, with the main focus on restoration of pianos.
The activities contain an important part of job shadowing.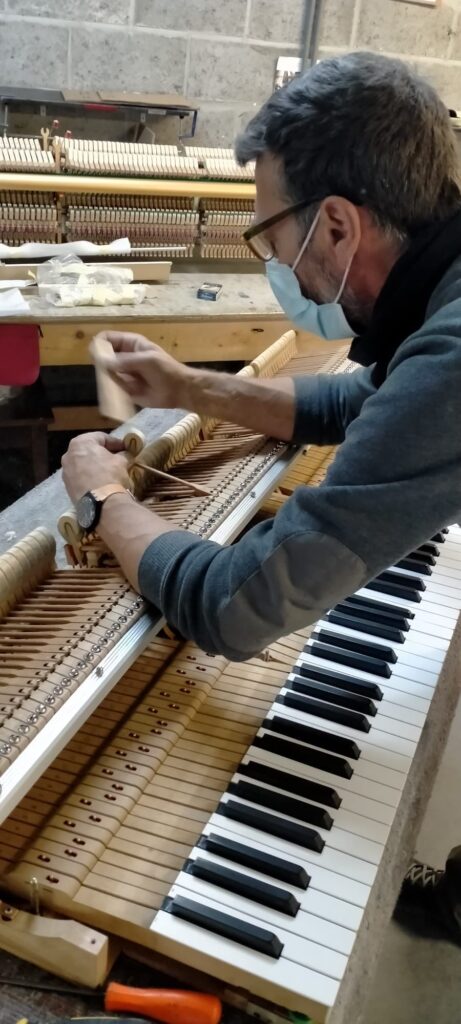 What results do they expect from their collaboration?
Both SC and HC expect to have acquired enough knowledge to complete the restoration of a total of 20 grand pianos, and learnt new techniques on mechanics of pianos, the installation of silence systems, keyboards, as well as the regulation and intonation process to optimize the sound qualities of instruments. 
However, depending on their experience and role in MobiliseSME, each company expects different results for their particular case:
For the Host Company
– Learn new techniques on mechanics of pianos;
– Introduce the partnership of both companies in the Belgian market;
– Assess future collaborations with the SC, in both the Belgian and the Spanish market.
For the Sending Company
– Improve skills and knowledge of restoration techniques;
– Expand its market in the host country (Belgium) and networking;
– Improve selling, research and language skills.
---
At MobiliseSME, we are convinced that our participants will achieve amazing results and will benefit from this collaboration throughout their careers.
If you also want to participate, whatever your sector, our Local Contact Points will accompany you through the whole process. You may also write us on support@mobilise-sme.eu