Success of MobiliseSME: Collaboration of graphic studio and publishing house brought a book series
Marc Armand, graphic designer from Parisian studio Tu Sais Qui, and César Rodríguez from Spanish publishing house Fulgencio Pimentel, collaborated for one month (October – November 2020) under the MobiliseSME programme.
Their collaboration was such a success that they decided to repeat it also in 2021 and switch the roles of Host and Sending Company.
What did the programme bring to them and what did they achieve? They told us in the following interview:
– Tell us a bit about your Company and your professional path. Why did you decide to participate in MobiliseSME?
I am Marc Armand from Tu Sais Qui, a Paris-based art direction and graphic design studio founded in 2008. The studio is responsible for the creative direction of Please! magazine; designed patterns for Desigual, Lacoste and Jean-Paul Goude; countless collaborations with Nike as a graphic designer, typographer, and type researcher, among many other projects. Tu Sais Qui also leads the visual communication of Villa Noailles art center in Hyères (France).
Tu Sais Qui is an international benchmark design studio and at the same time a very personal project. For this reason, it is well positioned to bring unique differential value to the editorial projects of independent publishers and potential partners in general.
– And how about you, César? Tell us about yourself and the sending company you came from.
I am César Sánchez from Fulgencio Pimentel, a Spanish publishing house focused on fiction, graphic novels, picture books and poetry. It was founded in 2006 and it has published more than 150 books, translating from more than 15 different languages. 
We decided to take part in MobiliseSME because it was a unique opportunity for us. It has allowed us to develop common projects with a French design studio. It has also helped me, as the seconded person, to broad my experience and improve my language skills, as well as discovering new potential projects from France.
We found out about the programme after Fundación Equipo Humano contacted us with the offer.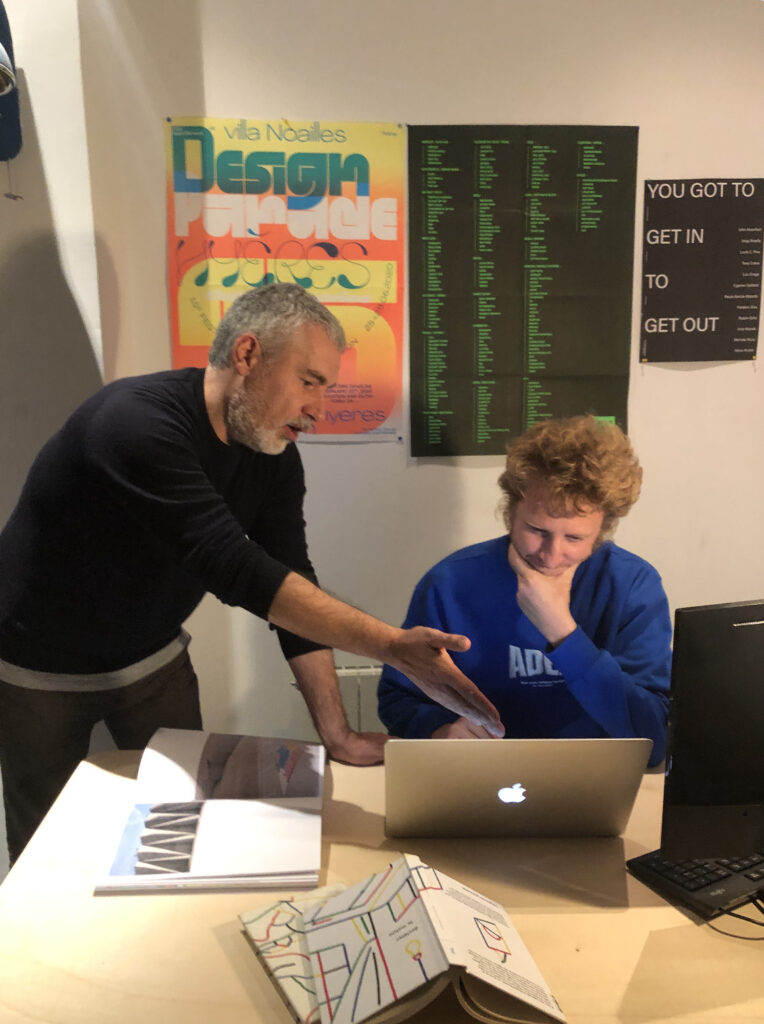 – Marc, briefly describe the matchmaking process and the preparation of activities with the sending Company. How did the process go? 
Since we already knew we wanted to collaborate with each other, the matchmaking process was very simple. We have known each other since our first collaboration creating the visual identity of Puchi Award.
In order to plan our activities, we had an online meeting in which we established the goals and objectives. After that, we worked in a shared document where we brought all the successful ideas created during brainstorming, trying to find a balance for our objectives. 
– From a business point of view, how did the collaboration with the Host Company contribute to your company, César? Would you repeat this business experience?
I would definitely recommend participating in MobiliseSME to colleagues in the publishing industry and any professionals in general since the programme is so open to companies from different sectors. I would take this opportunity again.
Our collaboration has facilitated the development of joint projects which are currently in process and will continue to grow in the near future. The new graphic identity of Puchi Award is going to be released in the following months, as well as some covers of our new book series La Principal. 
It was the perfect opportunity to strengthen the links between our two companies and, at the same time, we could get first-hand access to the latest literary projects published by French authors.
– How did this collaboration with the Host Company contribute to your personal development?
It was a great opportunity for me to gain more skills and confidence with the French language. French literature is perhaps the most important foreign literature for our publishing house so it is vital for our professionals to be able to assess potential projects with competence, proficiency and agility. It is also important for the editor to be able to edit translations from French. Both skills were improved during my stay.
On a more general, human level, the collaboration has allowed me to enrich and broaden my horizons while getting in contact with another culture.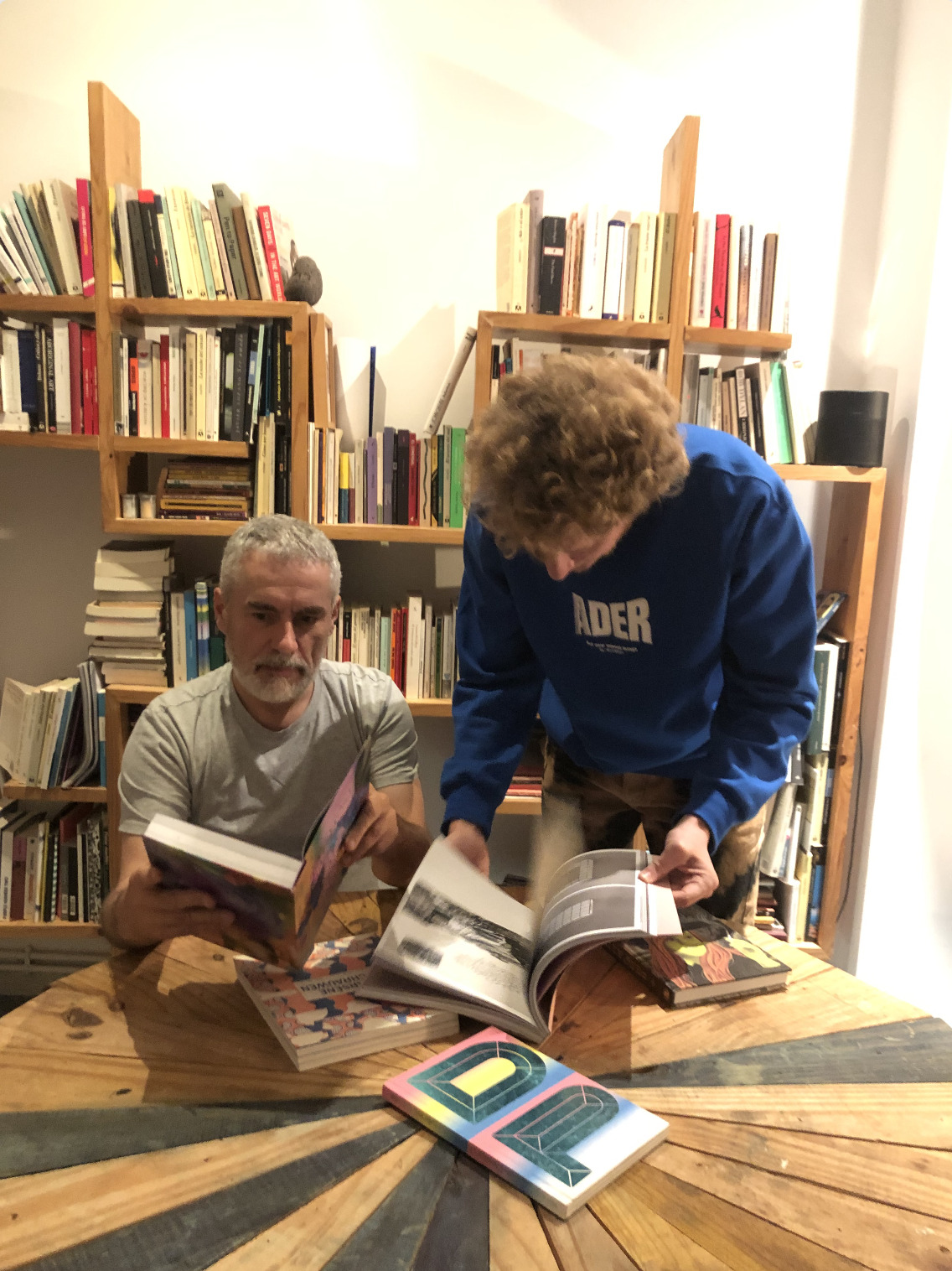 – And how did you contribute to the Host Company? Which responsibilities did you have during the time of collaboration? 
I have contributed to the Host Company with many years of experience in the publishing sector, including knowledge and first-hand information. My responsibilities were mainly related to the conceptualization phase of two projects: Puchi Award and book cover design for book series La Principal. 
On the other hand, coming into contact with the editorial design workflow in a more purely graphic environment has enriched my vision and the way of working.
– Marc, how do you think the collaboration with the Sending Company contributes to your company? 
In several ways. It gave us the opportunity to work in two joint projects: firstly, the identity of Puchi Award, a collaboration we establish every year since 2018. Being closer has enriched the creative process of this project and we are sure the results will be even better than in past editions.
Furthermore, the participation in MobiliseSME gave us the opportunity to start a new project of collaboration with a new book series cover design. This is a good contribution as it promises to have continuity in the future.
All this contributes to one of our main goals: to make our design work more visible in Spanish-speaking countries, in order to reach potential new clients.
I would definitely recommend participating in the MobiliseSME programme and, of course, I would repeat my experience.
---
This interview is evidence of the undoubted success achieved by both SMEs during their participation in our programme.
Your company can be the next to benefit from all that comes with being part of the MobiliseSME experience.
Contact our Local Contact Points and do not miss this great opportunity!