«MobiliseSME is a great opportunity to expand partnerships in Europe»
In one of our previous posts, we already told you about Beáta Vlnková and Rudi Verhoest, the owners of two companies in the wine business sector, who started collaborating through the MobiliseSME programme at the end of March 2021.
Beáta travelled from Slovakia to Belgium to partner up with Rudi for 6 months.
After their participation in MobiliseSME, we have interviewed them to find out how they have been doing:
– Please, Beáta, tell us a bit about your company and your professional path. Why did you decide to participate in MobiliseSME?
My name is Beáta Vlnková and I am the owner and self-employed in my company Wine Wave s.r.o., focused on the wine sector.
I organise wine courses, lectures, wine tastings and wine trips around the world. At the same time, I am the President of the Association of Sommeliers of the Slovak republic. For more than 20 years, we educated more than 500 sommeliers in Slovakia.
We also organised a lot of courses at the hotel school around my country. In addition, for three years I was working for the Slovak Tourism Agency to promote Slovak wines around Europe. 
When Covid-19 came to Europe and our country went into lockdown, that meant no more wine courses, no more wine trips, no more wine tastings. Very soon I started to organise online wine courses. But with wine it is always better to be in direct contact with people.
As the Covid did not disappear as we wanted, there was a time to start to think about new activities. I was thinking about selling Slovak wines to Belgium, so I decided this is the right moment to look around and try to find some new business activities. 
Suddenly I got an email from Taliansko – Slovenská obchodná komora with information about the Mobilise SME programme.
My aim was to expand my commercial activities in Belgium (to sell Slovak and Austrian wines), to find new potential customers, strengthen existing relations with Belgium and expand my network through the exchange of professional contacts with Rudi Verhoest Comm.v.
– And how about you, Rudi? Please, tell us about your company and how you found out about the MobiliseSME programme.
I have been working for more than 30 years in the banking sector. However, last year I had decided to leave the banking sector and to start something new. Because I am a culinary and wine lover, I was thinking about the wine business.
Two years ago I met Beáta in Antwerp during the sommelier competition for Best Sommelier of the World. Already then, she was thinking about importing Slovak wines to Belgium and she was looking for a business partner.
She informed me about the Mobilise SME programme, and we decided to participate together.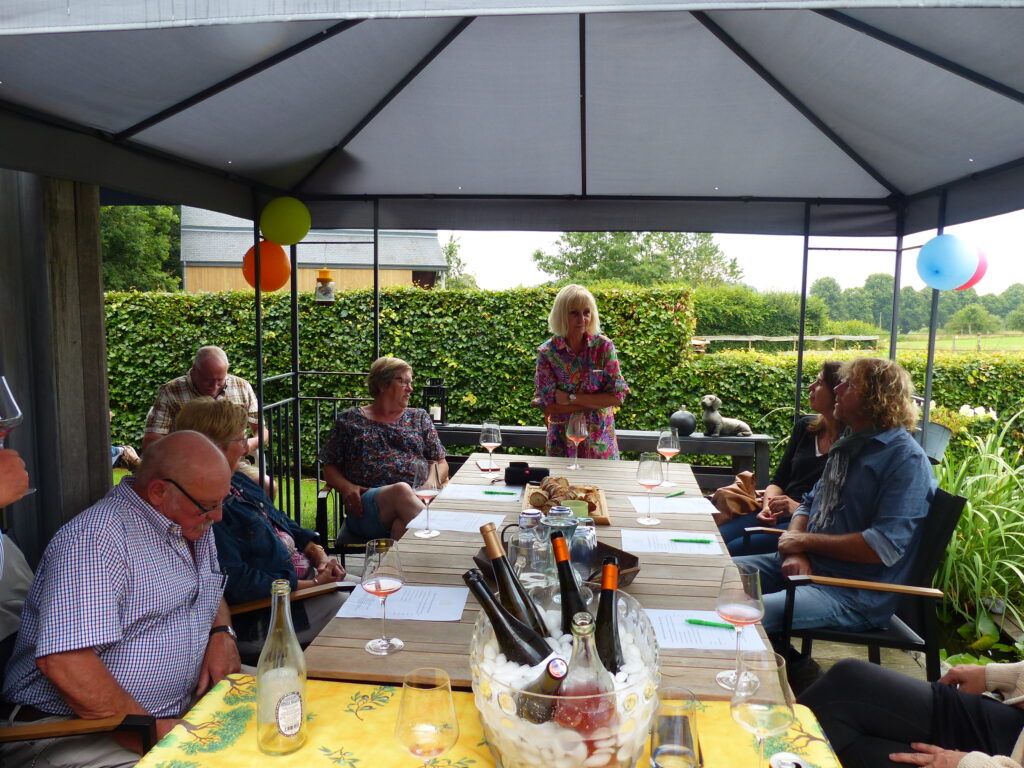 – From a business point of view, how did the collaboration with the Host Company contribute to your company, Beáta? Would you repeat the MobiliseSME experience?
The collaboration with Rudi contributed to my company a lot. He has lots of experience in the banking sector – in a position where networking was extremely important. Within the world of wine there is a very big competition and it is more and more difficult to find new clients and also to keep the old ones. So, it is really necessary "to network" all the time.
As a result of our collaboration through MobiliseSME, we obtained a huge amount of new contacts and we composed the basic group of future clients for buying Slovak wines. We also found out it is always good to focus the tasting on a certain subject.
Our next project will be to combine a "Masterclass of Slovak wines" combined with a lecture "How to taste wine". We also did market research in the region of Champagne and a wine trip will form the basis of another new project.
Thus, I would definitely recommend taking part in this programme and even myself I would repeat it. 
– Rudi, please, briefly describe the matchmaking process and the preparation of activities with Beáta. How did the process go?
As we knew each other before, the matchmaking process went very smoothly. The preparation of activities went also very well because of the great help from our Local Contact Points Taliansko – slovenská obchodná komora in Bratislava and the Official Spanish Chamber of Commerce in Belgium and Luxembourg.
It was obvious for me as the Hosting Company to like the profile of Beáta's company, because of her position in the wine sector. This was a big plus when it came to collaboration.
– Beáta, how has this collaboration helped you to develop yourself and your company? With which knowledge, techniques or information have you contributed to the Host Company? Which functions and responsibilities did you have during this collaborative period?
To change your normal environment is always good. You get an overview from your everyday life. 
Personally, I gained from this collaboration confidence in presenting Slovak wines in a foreign language (English); I acquired basic conversation level in Dutch; I obtained an enormous amount of new contacts; I did a market research on how is the taste of Belgium wine lover´s audience, which style of wine they like… as well as in the region of Côte des Bar in Champagne, preparing the proposal for a four day wine trip.
My role and responsibilities during this period were mainly to teach Rudi the different processes associated with wine marketing, tasting and education.
Furthermore, we have organised together 20 wine tasting events of Slovak wines for various groups of Belgian customers. I was in charge of the professional part of the wine tasting and introduced the Slovak wines – including history, general overview, explaining the most grown grape varieties, the technique, and how to taste wine.
Of course, I also improved my ability to do wine lessons in English as well as my networking skills.
– Rudi, how do you think this collaboration with the Sending Company contributed to your company and personal development? Would you recommend participating in MobiliseSME?
Thanks to our collaboration, I gained an overview about the Slovak wine market; learned the procedure on how to taste the wine, how to serve wine, how to match food and wine, how to organise a wine tasting…
I also learned how to promote, distribute and sell Slovak and Austrian wines to Belgian consumers.
During this period, we discovered the taste of Belgian future clients: by organising a lot of wine tastings, we found out that Belgian customers really like the white wines from Slovakia and not so much light red wines. Also, they are not so keen on natural orange wines.
We made use of my rich database, got contacts with good chefs of high ranked restaurants, and built up a powerful network in the province of Luxembourg, Belgium and in West Flanders. 
The main result has been that I improved my skills on wine tasting and now I better understand the specificities of each wine, which is going to be a fundamental part of my future portfolio.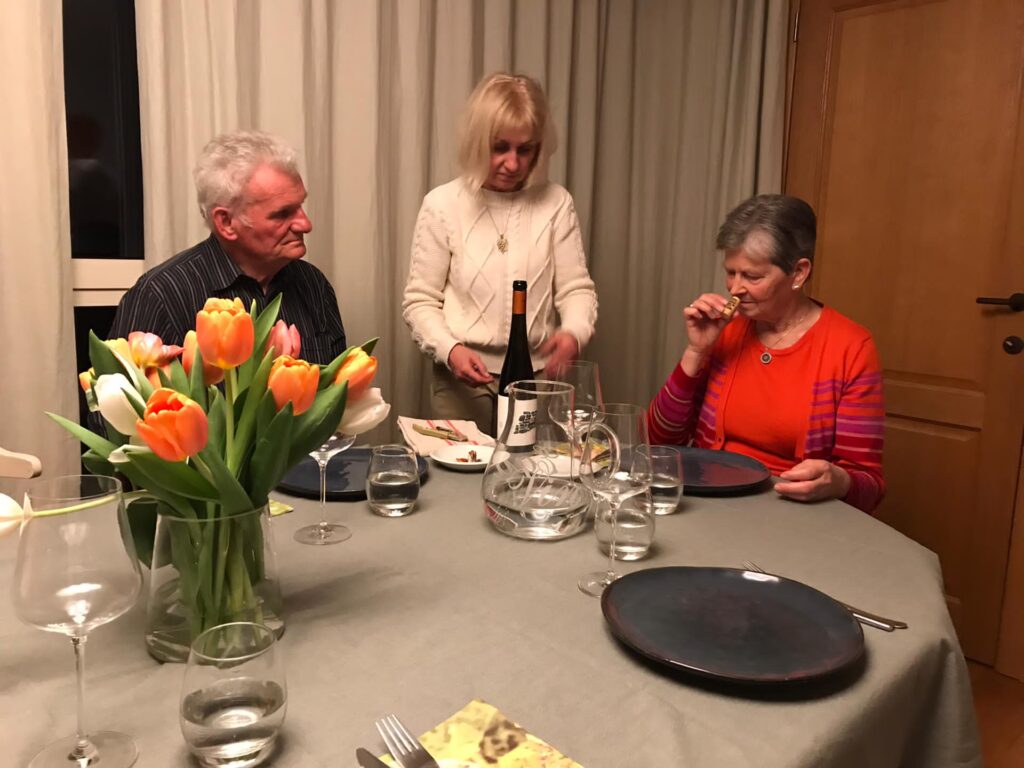 – Do you plan to continue the collaboration after the experience with the MobiliseSME programme?
Beáta: Yes, we would like to, since thanks to the MobiliseSME experience, we learned a lot.
We intend to sell Slovak wines in Belgium mainly through personal contacts. We also would like to organise wine trips to Champagne both for Slovak and Belgian clients.
Rudi: Certainly. I am already putting together with Beáta a database of the gites and B&B in Luxembourg and Belgium. We also put together a portfolio of Slovak wines, which are suitable for a Belgian market, and we are planning to export Champagne from France to Slovakia.
– Last but not least, did you improve your knowledge of mobility of workers within the EU after your participation in MobilisSME? Which role had the Local Contact Points in sharing this information?
Yes, we improved the knowledge of mobility of workers. Once you go through the process, it is then easier to repeat the experience and use the great opportunity to expand the partnerships in Europe. 
Lastly, our Local Contact Points helped us to understand what was needed and the required timing. We think is important to have a full guide available from the beginning so to know immediately what to expect from the participation in MobiliseSME and the needed steps.