«The whole idea of MobiliseSME is brilliant, especially as one-person companies and cultural workers are considered»
Barbara Fellgiebel is a Swedish entrepreneur, owner of the company Magiska Författarresor, who has participated in MobiliseSME as a Sending Company.
Thanks to the programme, Barbara has been able to collaborate for 6 months in Berlin with Dr. Clara Mavellia, founder and head of the Cultural Entrepreneurship Institute Berlin, who has participated as Host Company.
After their mobility period through MobiliseSME, we have interviewed them to tell us about their participation:
– Please, Barbara, tell us a bit about your company and your professional path. Why did you decide to participate in MobiliseSME?
My company Magiska Författarresor organises trips for writers who live and write in Sweden,  in order to meet colleagues in other European countries.
So far, we have been to Berlin, Leipzig, Reykjavik, Faro and Helsinki. Not to mention the numerous constellations of smaller writers groups between the involved countries.
The outcome has been bilingual literary salons as well as the publishing of two anthologies: 
· Barndom I Sverige – Kindheit in Deutschland ISBN 978-91-519-0237-1, by Swedish and German writers.
· HEMVIST ISBN 978-3-939385-07-3, by Finnish and Swedish writers. 
We also arrange a variety of literary events in Sweden, Germany and Portugal. Since the arrival of Covid, we have started with Zoom projects and been able to incorporate participants in countries all over Europe.
On the other hand, we closely cooperate with the Swedish organisation Litteraturrundan – a society of writers that we co-founded in 2013. We also plan a project with the V.STN:ORT Festiwal 2022 in Poland.
I was and am thrilled to have encountered an EU project that includes cultural activities and acknowledges the need for financial support for cultural workers.
Lastly, I decided to participate in MobiliseSME through personal contact with a partner organisation already registered in the programme.
– And how about you, Clara? Please, tell us about your company and how you found out about the MobiliseSME programme.
The Cultural Entrepreneurship Institute Berlin has 12 years experience in hosting events and producing meaningful digital content.
Furthermore, I would say I am a kind of influencer for ethical principles and democratic values, as well as a cultural entrepreneur. I have been able to tighten relationships with eminent academics, exemplary entrepreneurs and committed women and men all over Europe.
In 2017, the Institute started the project EU Women in order to strengthen women's rights and democracy in Europe. According to Gloria Steinem, you can't empower women without listening to their stories. That's why the focus of the work project was on collecting and diffusion of women's stories (memoir).
Through shared emotions we can understand and appreciate Europe. We started to acquire women and men willing to participate and planned to expand the resonance of the project. At the same time, we wished to develop skills in the field of digital marketing to generate profit,  inter alia a digital shop where to sell the stories.
When I heard about the MobiliseSME programme from my daughter Isabella I thought this is exactly what we need.
– From a business point of view, how did the collaboration with the Host Company contribute to your company, Barbara? Would you repeat the MobiliseSME experience?
It furthered my networking into other fields of business. Among others, Clara introduced me to the large network Üpfi, a legendary group of female politicians and highly committed women in various fields of business and activities supporting democracy and human rights in Berlin. I became a member of Üpfi and had a fabulous increase in my personal network. 
On the other hand, I would recommend any time to participate in MobiliseSME and I would gladly repeat this business experience. As a writer, I can easily work in other countries and the experience from a different culture, language and surroundings certainly provides a lot of necessary inspiration, ideas, contacts and possibilities.
Due to Covid and, thus, various periods of lockdown and inflicted isolation, the outcome of the secondment was unexpectedly restricted, more relying on internet contacts than on planned and expected personal encounters in real life.
The war in Ukraine has given yet another completely unexpected dimension to the secondment.
– Clara, please, briefly describe the matchmaking process and the preparation of activities with Barbara. How did the process go?
Barbara and I first met at an event hosted in 2019 by my Institute in Berlin: "EU Women" at Z-Bar, where different women read their stories related to World War II.
The moving stories reminded us how crucial the European Union is for the peaceful coexistence of people that only a few decades before were killing each other. The event was a great success and EU Women signed a monthly schedule with the Z-Bar.
Inspired by Elena Ferrante, EU Women also planned a creative writing journey to Ischia in the early summer 2020. As Barbara has a large network I asked her if she'd like to cooperate. She was very positive, so we made a plan. Shortly after sending the invitations, we had the first application and payment.
When the pandemic hit Italy and Europe, I had to cancel the events in the Z-Bar and we also had to cancel the journey to Ischia.
After a couple of months, I discovered Zoom and asked Barbara to cooperate in starting a creative writing workshop via Zoom and, actually, we had a good start. In order to propagate the stories, I started to record them during our Zoom meetings and post them on the EU Women YouTube channel.
When I heard about MobiliseSME, I realised this was a great opportunity to work closer. So I asked Barbara how about coming to Berlin. She was really enthusiastic about it also because she had already planned a literary event in September at Terzo Mondo in Berlin.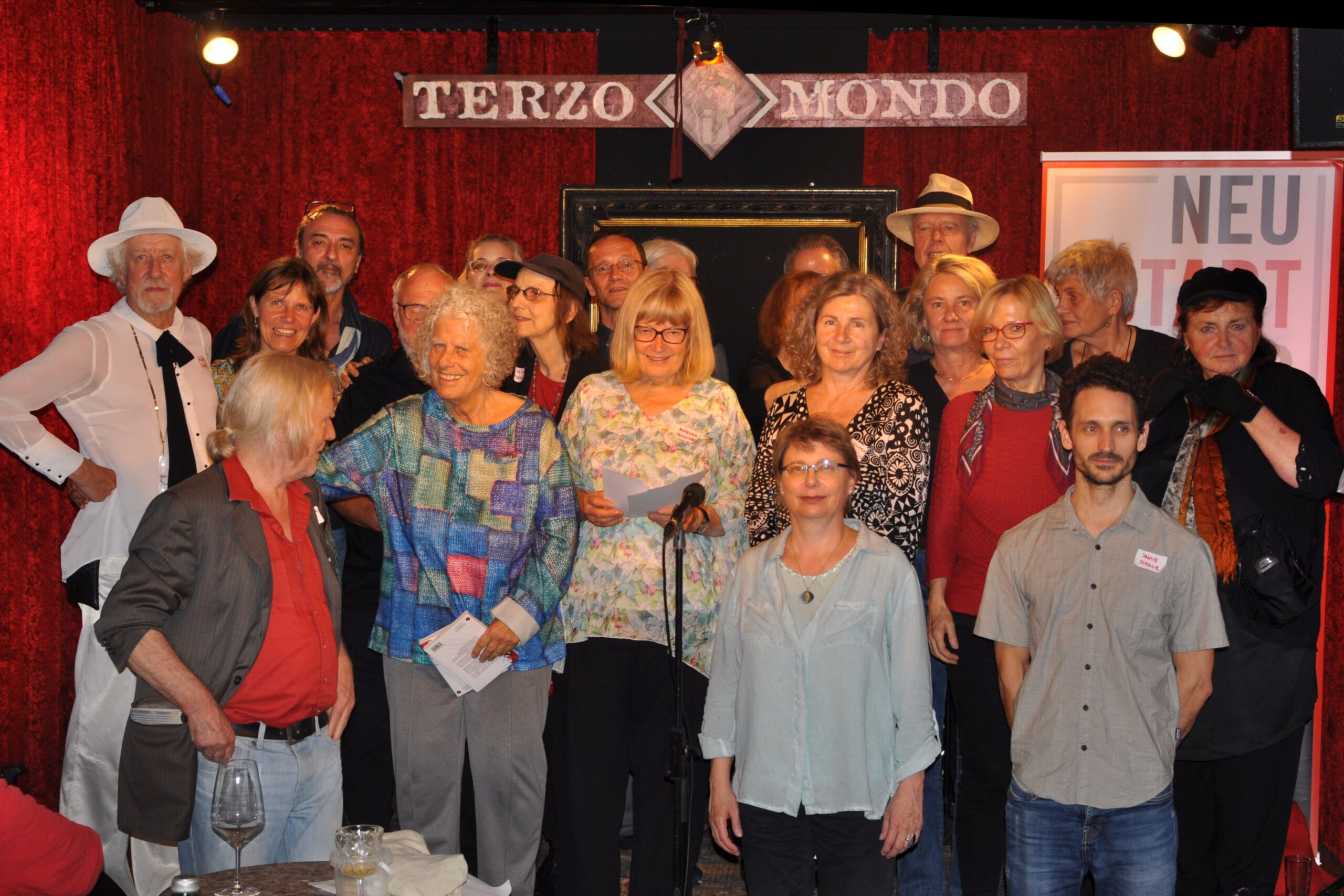 – Barbara, how has this collaboration helped you to develop yourself and your company? With which knowledge, techniques or information have you contributed to the Host Company? Which functions and responsibilities did you have during this collaborative period?
As a Sending Company, I found it extremely interesting to work and live in a different country and experience the very different daily life and working routines. Due to the Covid pandemic, many personal contacts and gatherings were not possible and had to be conducted online. Thus, the Covid threat affected me personally. I became less productive, less willing to meet new people, deal with new challenges, etc.
However, I increased my technical knowledge with regards to making videoclips, improving lightning, sound, setting, sending clips… thanks to the encouraging guidance and knowledge of Clara.
Moreover, the Institute has actively participated in a literature salon in Berlin as well as been published in the most recent anthology (Jetzt Erst Recht ISBN 987-3-939385-17-2), issued by my company. My Host Company will even participate in a forthcoming anthology called Wind Of Change.
Week by week I improved with many ups and downs my technical skills in hosting Zoom conferences and workshops. I even started a monthly occurring literary platform all over Europe under the name of Alfa Zoom.
With the arrival of Omicron and the increasing fear and unwillingness of personal encounters, more and more participants started to find and appreciate the benefit of the many new and unusual digital formats.
In addition, in spite of various restrictions, I managed to go to Munich in order to acquire more women who wanted to tell us their stories.
Finally, I participated in the Frankfurt Book fair, which due to COVID restrictions was a very unusual experience. In this event, I managed to recruit new participants to our project and was delighted to learn that the 2022 guest country will be Spain!
– Clara, how do you think this collaboration with the Sending Company contributed to your Institute and personal development? Would you recommend participating in MobiliseSME?
Barbara (Magiska Författarresor) hosted an event at Terzo Mondo in Berlin and invited me to participate. She also planned a publication of Berlin's event stories and included one of my Institute's.
Immediately before the event, we planned a collaboration: together, we researched how to promote the production and diffusion of women's stories in order to enhance the importance of democracy and women's rights.
To this end, we decided among others to dedicate the workshop in May to the theme "Europe" so everyone wrote a story related to Europe. This special session was hosted in partnership with the Berlin Senate and announced as part of the Berlin European Week. 
Due to Barbara's broad network, we were always able to have between 5 and 10 persons participating in the Zoom meeting every month.
For sure, I would recommend MobiliseSME and I would like to repeat the business experience anytime. In fact, Barbara and I plan to continue our collaboration.
– Barbara, do you plan to continue the collaboration after the experience with the MobiliseSME programme?
In spite of initial difficulties due to our strong personalities, we found a successful way of collaboration that we both find profitable and satisfying, so that we have agreed on continuing by reversing the situation: Clara (The Cultural Entrepreneurship Institute Berlin) will come to Sweden and participate as a Sending Company, so that she will be able to study and participate in the various literary events that my company has lined up.

Thereby, we can work together on improving the market of women's stories as real cultural entrepreneurs.
After the completion of our participation in MobiliseSME, On March 20, I organised a German literary salon where Clara met some of the participants from our Zoom course in real life, as well as encountered a German-speaking Swedish audience that was very interested in our project and in the programme.
As there is still much to do, we are glad to continue our collaboration. Especially helpful is the exchange of ideas about what is working in this particular field.
Writing is in fact a very lonely business, particularly when it comes to the marketing part. Here we need some more brainstorming. 
We also plan to realise our creative writing journey to Ischia, which hopefully will lead to new contacts and possibly to further MobiliseSME projects with new counterparts.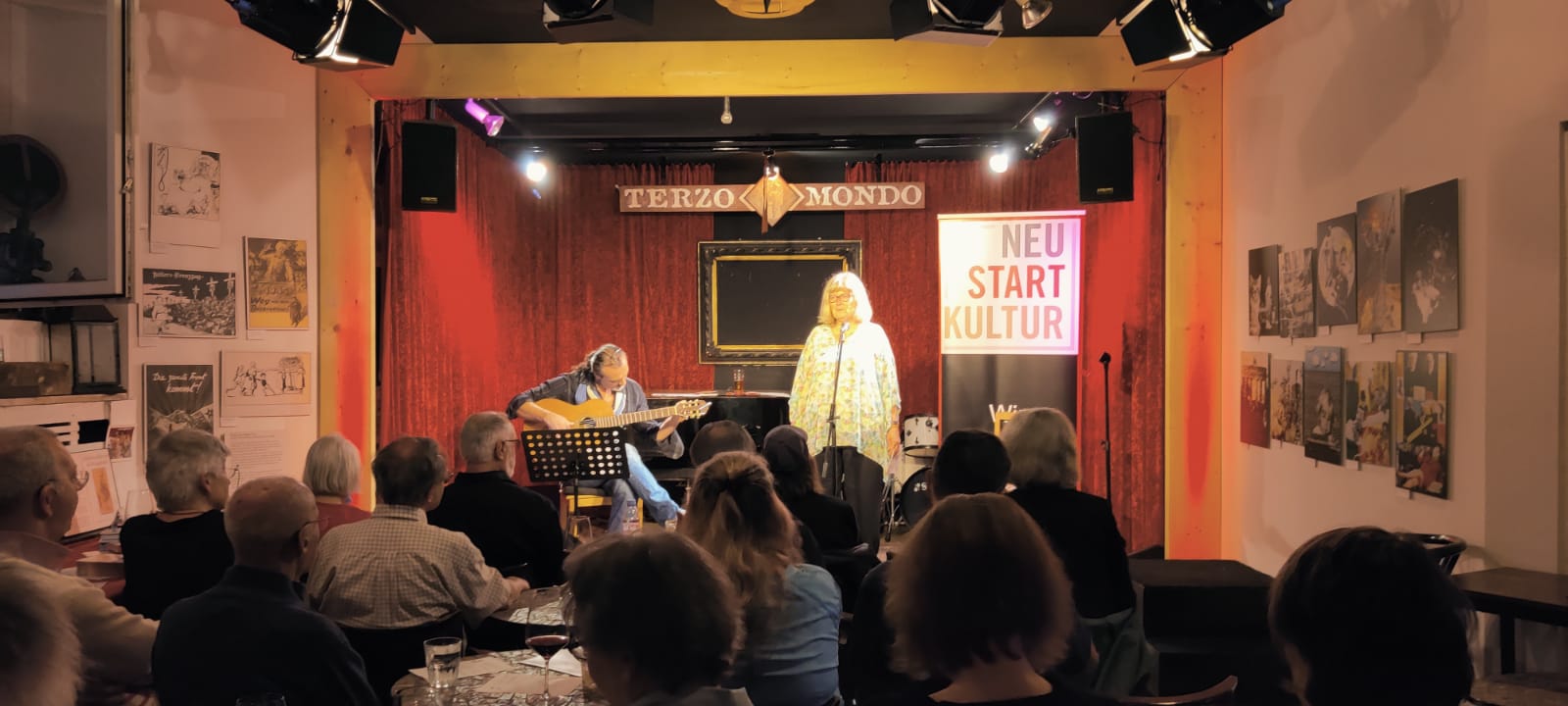 – What about you, Clara?
I endorse the words of my partner Barbara.
As mentioned, we wish to start a kind of digital shop where we sell the stories, in order to generate profit and become skilled cultural entrepreneurs.
Also, it would be great to add female content to the male-dominated cyberspace. In fact, this is a very innovative project, in our case the socio-technical "market" of women's stories; ethics and democracy; freedom and human dignity; equality and rule of law; human rights and women's rights; in brief, the core values of Europe.
Let me add that the Russian-Ukrainian war reminds us not to take democratic values ​​for granted, but to appreciate and support them tirelessly. Exactly what the programme MobiliseSME is doing.
– Last but not least, did you improve your knowledge of mobility of workers within the EU after your participation in MobilisSME? Which role had the Local Contact Points in sharing this information?
I (Barbara) was quite aware of Erasmus and other existing European mobility and exchange programmes, but had not heard of MobiliseSME.
I am a very independent worker, used to making a lot of solitary decisions. I quickly got the impression that it was alright to work like that.
The role of our Local Contact Points, the Austrian Federal Economic Chamber – WKO and Fundación Equipo Humano, is to function as a help centre that assists you in case of emergency. It felt good and secure to have this assistance. But I didn't really need to make use of it as the host country, Germany, was not unfamiliar to me. I think the situation is completely different for a seconded person who has never been in the host country.
As there is no Local Contact Point in Scandinavia, I would be interested to possibly become one. I think the whole idea of MobiliseSME is brilliant, especially as even one-person companies and cultural workers are considered.
Thus, I hope this programme will continue, grow and excel.