«MobiliseSME might be an enlightening passing experience for some or a life-changing one for others»
Myriam Dehmous is a freelance translator from France who has participated in MobiliseSME in order to collaborate with Marcello de Bartolomeo, Board Advisor in the company DBA Consulting srl, based in Italy.
Thanks to MobiliseSME, Myriam has spent 6 months in Rome working together with Marcello. We interviewed them to find out what benefits and results they have gained from their participation in our programme:
– Please, Myriam, tell us a bit about your company and your professional path. Why did you decide to participate in MobiliseSME?
I come from a linguistic background and have a master's degree in Translation and Intercultural Communication.
I have been working as a freelance translator since 2019. I provide translation and revision services from English and German into French.
In addition, I specialised in institutional and redactional translation, whereby I mainly translate amendments to proposals for a directive, regulation or draft reports from the European Parliament.
For the past three years, I also translated many legal content, many product brochures and more creative content, such as exhibition leaflets and marketing materials.
I travelled a lot during my post-secondary education, whereby I had the opportunity to live in several countries for more than six months, namely in Germany, in the Netherlands and in Malta.
Self-employment has been allowing me to maintain this practice as I am not bound by any subordination link nor schedule.
However, this also means that, unlike my previous experiences abroad, I do not really have access to any institutions or companies when I travel nowadays, thus preventing me to capture the broader picture, educational and corporate institutions being cultural mirrors of everyday society. It is almost as if I could not merge with the country I am travelling in.
This is one of the main reasons why I decided to participate in MobiliseSME as Sending Company, not to mention the desire to start learning a new language and discover a new business sector for the purpose of vocational retraining.
I found about MobiliseSME programme through DBA Consulting's team who saw an opportunity to deepen our collaboration.
– How about you, Marcello? 
DBA Consulting was established in 2002 and currently is amongst the leading national providers of consulting services in the field of cross-border VAT payment & refund, excise duties recovery and management of posted workers in Europe.
In the first decade, our activity focused mainly on consulting road passenger transport companies, taking advantage of the experience gained by the collaboration with trade associations of national importance.
The continuous exchange of synergies with other professionals has allowed to steer the consulting activity also on other economic sectors, from industry to trade, services and the third sector.
We found out about this opportunity thanks to a webinar arranged by MobiliseSME on March 2021.
Our desire to take part in the programme as Host Company was driven by our intention to exchange experiences with young and dynamic new resources for our Italian office, and possibly set up a company branch in northern Europe when time is ripe, and the right entrepreneurial counterpart is found.
– From a business point of view, how did the collaboration with the Host Company contribute to your company, Myriam? Would you repeat the MobiliseSME experience?
As a freelance translator willing to gradually retrain, I gained a valuable business experience from my collaboration with DBA Consulting.
By helping the host company with linguistic matters, I surely acquired a sector-specific and broader terminology and phraseology that gives me the legitimacy to potentially specialise in the translation of tax-related content.
Furthermore, I gained practical knowledge that would facilitate my return to higher education or training in the field of VAT compliance, whereby I learned the difference between passive and active invoices, how to calculate VAT refunds, how to comply with the VAT recovery procedure in different EU countries and how to post workers in different EU countries.
Having the legal status of "self-employed", I am entitled, under French regulation, to a VAT exemption as long as my yearly revenues do not exceed the relevant threshold above which I have to charge and pay VAT.
It seems that I am approaching this threshold and my stay at DBA has been a wonderful opportunity to understand the whys and wherefores of VAT and to apply the knowledge gained very soon.
I can only recommend participating in MobiliseSME as it provides a significative opportunity to discover a new country, a new language, and a new culture from the "inside", allowing to link with people that one would have never come upon otherwise and to discover a new business sector on the practical level first, thus reversing the paradigm "first theory,  then practice" which seems outdated.
This programme might be an enlightening passing experience for some, or a life-changing one for others, as our main common outcome with DBA is the opening of a France-based branch in the medium term.
– Marcello, please, briefly describe the matchmaking process and the preparation of activities with Myriam. How did the process go?
The matchmaking process was smooth and fast as we had already been collaborating with Myriam prior to our participation in MobiliseSME for around twelve months, but we did encounter some kick-off issues only with respect to our exchange preparation.
These mainly involved complications around the exchange starting date which were, however, readily solved by Forum AIC, our Local Contact Point.
We have originally contacted Myriam for sporadic collaborations as she presented herself as an experienced professional in the field of linguistic translation and interpretation.
Due to Covid-19, some company staff was dismissed leaving a technical gap for what concerns German foreign administrative practices.
We were immediately able to apply her linguistic services to our core business and uphold our collaboration, making us of her fiscal representation services for the primary purposes of having our clientele comply with social legislation in France (posting of workers certificates).
– Myriam, with which knowledge, techniques or information have you contributed to the Host Company? Which functions and responsibilities did you have during this collaborative period?
During this collaborating period, I can say with certainty that I did contribute to the host company by deploying my linguistic and documentary research skills.
DBA Consulting was facing some challenges with the German tax authorities and we managed together, and thank to my knowledge of German, to re-establish contact with the German tax office, allowing us to settle many issues resulting from misdeclaration or delays in the declaration due to the COVID-19 pandemic.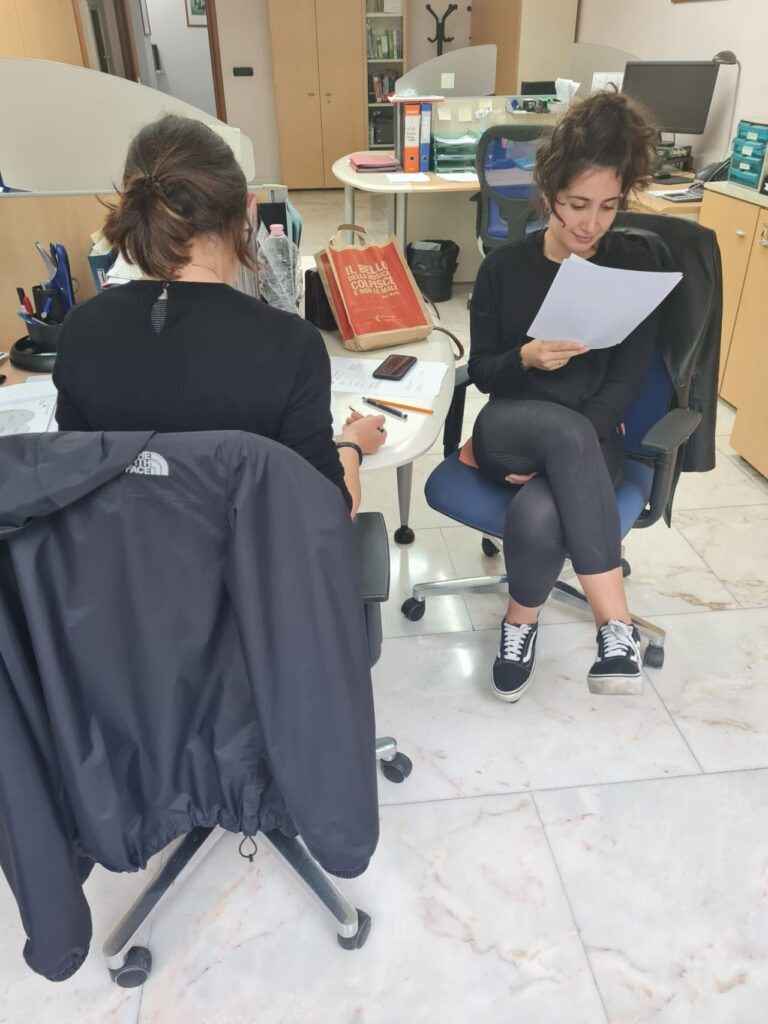 We also managed to cut significative costs associated with the posting of workers.
During my stay, besides working on my deliverables that will serve DBA in the near future, I mainly assisted the team in declaring VAT in France, Germany, and Austria, which encompasses calculating the refundable VAT using a specific software, gathering all client's invoices through DBA's portal, inputting tax-related data into the relevant national declaration platforms and monitoring the adoption of new legislative requirements by countries.
– What about you, Marcello? How do you think this collaboration with Myriam contributed to your company and personal development? Would you recommend participating in MobiliseSME?
We can say with absolute confidence that our collaboration with Myriam, in particular in the framework of MobiliseSME, was indeed successful.
During her stay in our Italian office, she has mainly supported in establishing, maintaining, and facilitating communication flows between foreign tax authorities on behalf of our clients. She has contributed massively with improving our outdated VAT declarations filing mechanism through our company portal, as well as with modernizing tax refunds requests submitted to several administrations in the Benelux countries.
The benefits we obtained from our collaboration range from being able to offer better services to our clients to having earned potentially new ones, thanks to her geographical and cultural ties and links with foreign companies with whom we will establish future relationships.
For these reasons, we would most certainly repeat the MobiliseSME experience with her or other like minded professionals.
– Do you plan to continue the collaboration after the experience with the MobiliseSME programme?
Myriam: I do plan to further collaborate with Marcello and his company. As the deliverables show, there is a significant growth potential to harvest in France.
In fact, it is worth pointing out that France shares borders with Belgium and Luxembourg in the northeast, Germany, Switzerland, and Italy in the east, the Mediterranean Sea, Monaco, Spain, and Andorra in the south. Passenger road transport is therefore fairly well-developed, not to mention the high prices of rail transport that could lead, if not already, to a modal shift to road transport.
In the medium term, DBA's team and I aim at establishing a branch in Paris, which would be wholly owned and controlled by the mother company in Italy – DBA – although it must be a distinct and separate legal entity fully able to operate and undertake legal obligations under French law.
The branch will take the form of a "succursale" that operates via a manager – me – subordinated to the mother company acting under his control and dependence.
Our strategy towards building up a customer base still has to be discussed. There is also a market in the sector of translation, whereby we could also offer translation services to foreign companies willing to establish themselves in France and needing several corporate documents to be translated. In that case, we would have obviously to look into ways of certifying our translations.
Marcello: As a matter of fact, we do plan to collaborate with Myriam after this collaboration and are already undertaking concrete steps in that direction, as Myriam previously mentioned.
The resulted branch could be particularly valuable in supporting the mother company in performing core activities, including development and consolidation of commercial relationship and recruit young and dynamic resources for the Italian office.
The participation in MobiliseSME only accelerated our intention to set up the company branch in Paris.
As project partners, we have equally concluded that the creation of the branch is a mutual favourable outcome. On our side, Myriam had appeared to be the right profile considering her previous work and professional experience, and we are wholeheartedly happy about the choices we made.
She has completely understood and internalized our corporate values and methodology, and has integrated with our staff and clients showing abilities to undertake responsibilities and meet all deadlines.
– Myriam, last but not least, did you improve your knowledge of mobility of workers within the EU after your participation in MobilisSME? Which role had the Local Contact Points in sharing this information?
I surely improved my knowledge of mobility of workers within the EU as I did not know – before participating in MobiliseSME – that an Erasmus-like programme for small and middle enterprises existed.
CCI Nouvelle Aquitaine, the French Local Contact Point, fulfilled its basic role, although there had been a lack of communication at the beginning, whereby I was awaiting a written confirmation of my participation, which I did not receive, leading to my delayed departure. As the host company and I were very flexible, this was not detrimental to our collaboration.
MobiliseSME's website, including testimonies of former participants, was also a great source of content that helped me understand the whys and wherefores of this programme.