«MobiliseSME shows you that we do not need to confine ourselves to our area and stay inside the box»
This time we bring you the interview with two of our SMEs participating in MobiliseSME, belonging to the sustainable tourism and audiovisual industries.
Andrej Curk, owner of the Slovenian SME Videoprodukcija, Andrej Curk s.p., has participated in MobiliseSME as Sending Company.
For 6 months, Andrej has been collaborating with Barbara Visintin, Sales Manager of the Croatian company Apartmani Barbara Split, which has participated in the programme as Host Company.
Read on to find out how their time at MobiliseSME went and what benefits can be gained from joining forces between these two fast-growing industries!
– Please, Andrej, tell us a bit about your company and your professional path. Why did you decide to participate in MobiliseSME?
My company actually provides three services to three different consumer groups: independent video production, agency collaborations and wine wellness equipment supplying.
I was already part of another international project led by the Slovene intermediary organization (BSC Kranj) when I was acquainted with the MobiliseSME programme.
Thus, I had a good experience and trusted the project manager's judgement – it was an easy decision to participate in MobiliseSME!
I chose to participate in the programme because I have always been drawn to international collaborations and working experiences, and I saw it as a great opportunity to do and see interesting things abroad.
– How about you, Barbara? 
Since 2012, I am an entrepreneur in tourism with a special focus in green hospitality and sustainable tourism.
I am also participating in marketing of Turrium Heritage Apartments in Kaštela, where we are implementing sustainable materials and zero waste concept into architecture and everyday business.
I have 10 years of experience in working with tourists from all over the world, which is helpful in marketing and communication. I also have several years of experience with journalism, as I was performing my job in Bologna, Italy.
In addition, I am an expert in decoration for photography and videography.
I decided to participate in MobiliseSME to gain new knowledge and fresh ideas from a professional videographer, to join forces in filming and decoration, to increase the visibility of Turrium Heritage Apartments and to prolong the season from summer months to all-year round.
My business partner, who works for the largest platform of sustainable accommodations, had mentioned the MobiliseSME programme to me and put me in touch with Andrej. This is how our collaboration has started.
– From a business point of view, how did the collaboration with the Host Company contribute to your company, Andrej? Would you repeat the MobiliseSME experience?
My business has acquired new contacts that could potentially turn into new clients regarding video production.
I, as an employee and the company's representative, have gotten priceless experience of conducting international business and another aspect of customer service.
I would absolutely recommend this experience to everyone as it broadens your horizons and encourages you to think outside the box.
I think we like to think that cross-border or international collaborations are difficult, complicated or sometimes even impossible, but initiatives like this change that mindset into normalizing going international.
As far as repeating the experience goes, I would also love to further participate. At the moment, I am in the process of registering for a MobiliseSME exchange as a Host Company.
On the other hand, the main results and benefits obtained include a promo video to be used in the next tourist season; lots of materials for social media posts and ads; development of soft skills (mostly customer-related); improvement of networking skills and two new actual clients.
– Barbara, please, briefly describe the matchmaking process and the preparation of activities with Andrej. How did the process go?
During the matchmaking process we were communicating via Zoom and WhatsApp.
Andrej prepared the activity plan based on our discussions, needs, desires and future plans.
Basically, he was searching for a Host Company in charge of sustainable accommodation, in order to learn videography tactics for eco hospitality.
My goal was to practice interior decoration, as well as to participate in video scripting and video editing to refresh my knowledge obtained during my work in Bologna.
– Andrej, how has this collaboration helped your professional development?
As I have been the one to bring knowledge regarding promotion and multimedia, I have found to evolved most in the tourism aspect of the experience. In short, I have evolved and improved as a tourist service provider.
The experience also gave me another insight into their services, which I will be able to implement into my own service of supplying wine wellness equipment.
That also includes a higher level of communication with higher-end eco-tourism clients and the option of expanding our services into marketing said eco-tourism.
I have been granted lots of networking and, consequently, potential business opportunities.
– And with which knowledge, techniques or information have you contributed to the Host Company? Which functions and responsibilities did you have during this collaborative period?
We have provided audio-video support to their marketing campaign efforts, combined with software development implemented in the new webpage design.
Therefore, we were crucial in making their marketing materials and, by that, in acquiring new clients for the next season.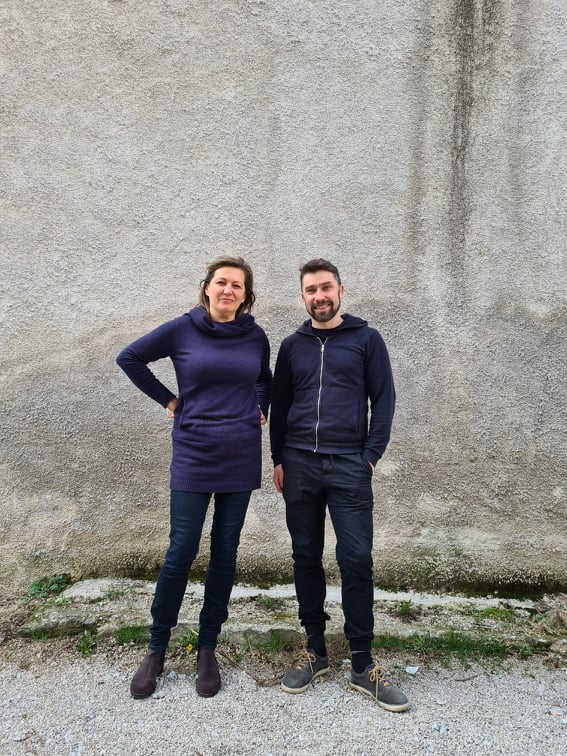 We have led an entire set and recording session, which resulted in providing existing and potential customers with proof of high-quality accommodation and added value the Host Company possesses.
We have developed their knowledge and skills in digital and social media marketing, communication, niche marketing, storytelling, while applying the green tourism angle to all of it.
– What about you, Barbara? How do you think this collaboration with the Sending Company contributed to your company and personal development? Would you recommend participating in MobiliseSME?
My collaboration with Andrej resulted in an authentic script for video that enhanced Turrium Heritage Apartment market differentiation and positioning in the green hospitality industry.
We also created an innovative video based on creative storytelling and improved digital marketing by targetly promoting the video towards the segment of responsible travelers.
Andrej gave me new ideas based on green tourism scheme in Slovenia and recommended some of the accommodations in Slovenia for our benchmarking.
I would definitely recommend participating in MobiliseSME and repeat this business experience!
– Do you plan to continue the collaboration after the experience with the MobiliseSME programme?
Andrej: Yes, we are planning to further expand the offer and to prepare for another season. However, we do not have a definite plan yet as it is still in the talking stage.
Barbara: Yes, I am planning to collaborate with the Sending Company also after this collaboration by continuing filming videos  and decorating interiors/exteriors for different tourism providers in Split Dalmatia county and Dubrovnik-Neretva County.
It was a great collaboration, full of positivity and new ideas. We really enjoyed the entire process, so thank you for this lovely opportunity!
– Andrej, last but not least, did you improve your knowledge of mobility of workers within the EU after your participation in MobilisSME? Which role had the Local Contact Points in sharing this information?
Yes, my knowledge of possibilities regarding the mobility of workers within the EU has absolutely expanded.
It all seems much easier now; such experiences let you know that we do not need to confine ourselves to our area and stay "inside the box".
Finding new opportunities suddenly does not sound scary anymore, especially in tourism, as it is very international because of the nature of the business itself.
Our Local Contact Points, BSC Kranj and TERA Tehnopolis, had a crucial role in the whole process, since they were so kind to share all the necessary and additional information needed to open our eyes to all the options, helping with the bureaucracy and easing the transition.